India's PSLV-C18 soars into space with Megha-Tropiques satellite on Wednesday, October 12, 2011.
India's workhorse Polar Satellite Launch Vehicle (PSLV-C18), which will put into orbit the Megha-Tropiques satellite and three nano satellites, soared into space today from the spaceport at Sriharikota, about 90 km from Chennai.
The launch took place at 1100 hours as scheduled from the Satish Dhawan Space Centre (SHAR) at Sriharikota.
An Indo-French satellite Megha-Tropiques was on Wednesday successfully placed in orbit by PSLV-C18 rocket in a perfect launch from Satish Dhawan Space Centre as part of a key mission that will help understand global tropical weather.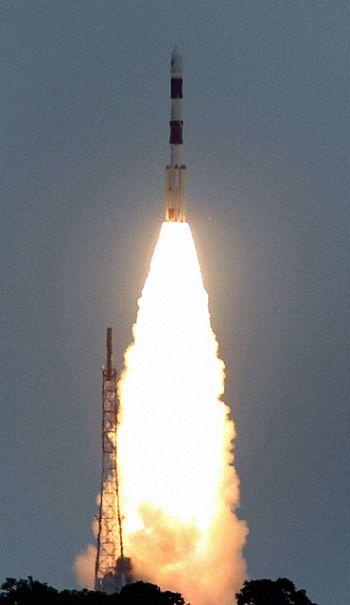 Along with Megha-Tropiques, Indian Space Research Organisation's workhorse Polar Satellite Launch vehicle (PSLV) also shot into space three nano satellites—VesselSat – 1 from Luxembourg, SRMSat from SRM University, Chennai, and Jugnu from IIT, Kanpur.
The four satellites were injected into orbit one after another in clockwork precision about 26 minutes after PSLV lifted off in a plume of smoke at 11 am, in a mission described as a "grand success" by ISRO Chairman K Radhakrishnan.
"PSLV-C18 has been a grand success. Very precisely, four satellites were injected in space orbit and the difference between what we planned and what we achieved is just two km over an altitude of 867 km," he told scientists after the launch.
The rocket first injected the 1000-kg Megha-Tropiques satellite into an orbit of 867 km altitude at an inclination of 20 degrees with respect to the equator.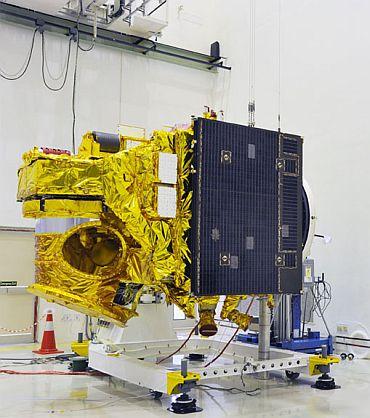 Megha-Tropiques carries three payloads — two by French space agency CNES (Centre National d'Etudes Spatiales) and one jointly by ISRO and CNES – and a complementary scientific instrument.
ISRO has built the satellite at a cost of Rs 80 crore with "equal contribution" from CNES.
Megha-Tropiques (Megha meaning cloud in Sanskrit and Tropiques denoting tropics in French) will investigate the contribution of water cycle in the tropical atmosphere to climate dynamics.
Information beamed by Megha-Tropiques is expected to benefit not only India, but also all countries in the Indian Ocean region and other parts of the world.
The SRMSat would help in understanding global warming and pollution by studying carbon-dioxide and carbon-monoxide present in the atmosphere. Jugnu has a camera to take pictures of the earth to monitor vegetation, reservoirs, lakes, and ponds, while VesselSat would help in locating the ships on high seas.
The Megha-Tropiques mission is to study the water cycle in the tropical atmosphere in the context of climate change.
India is the second nation to launch such a mission after the Tropical Rainfall Measuring Mission (TRMM) in November 1997. TRMM was a joint space mission between the US-based NASA and the Japan Aerospace Exploration Agency (JAXA) designed to monitor and study tropical rainfall.
A collaborative effort between ISRO and French Centre National d'Etudes Spatiales (CNES), Megha-Tropiques is designed to understand tropical meteorological and climatic processes by obtaining reliable statistics on the water and energy budget of the tropical atmosphere.
Megha-Tropiques also seeks to describe the evolution of major tropical weather systems. The focus will be the repetitive measurement of the tropics.
The satellite carries MADRAS, SCARAB and SAPHIR as scientific payloads.
The Microwave Analysis and Detection of Rain and Atmospheric Structures (MADRAS), an microwave imager built by ISRO and the CNES to study the high level ice clouds associated with the convective systems, would provide an estimation of rainfall, water vapour, liquid water, ice and surface wind.
While Scanner for Radiative Budget (SCARAB) would study the radiation received by the earth and reflected by it, the Sondeur Atmospherique du Profil d'humidite intertropicale par Radiometrie (SAPHIR), a sounding instrument, would study the humidity present in the tropical atmosphere.
This is the 20th PSLV mission. In its previous 19 missions, the four-stage PSLV Vehicle had 18 successive successful flights till July this year. With its variant configurations, PSLV has proved its multi-payload, multi-mission capability in a single launch and its geosynchronous launch capability and has become the workshorse launch vehicle of ISRO.
The same PSLV with extended version of strap-on motors PSOM-XL, was used for the prestigious Chandrayaan lunar mission.